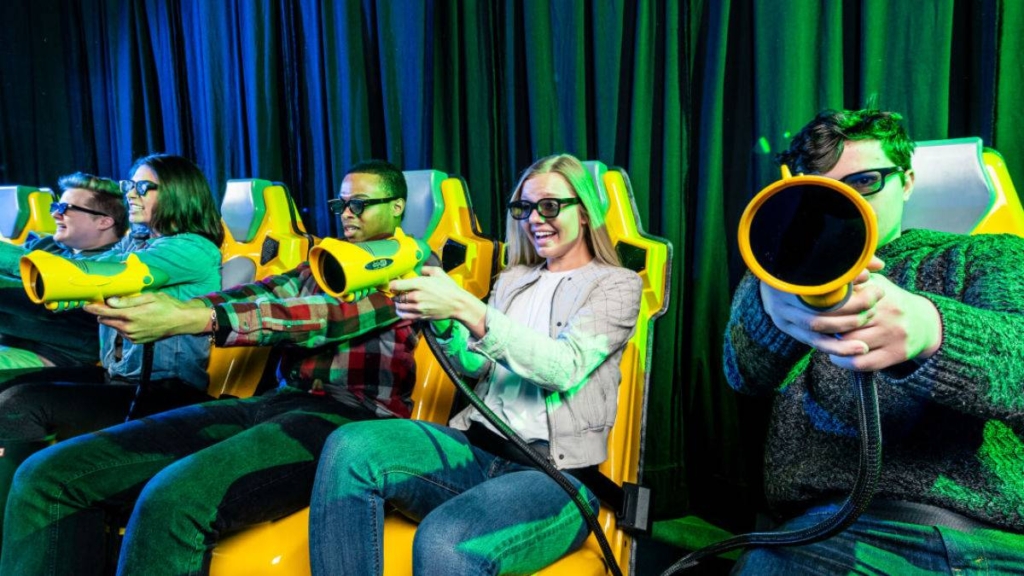 Home of the only XD Dark Ride
in the state!
Surge Entertainment in Lafayette, Louisiana, is in for a treat, as they will soon become the home of the only XD Dark Ride in the state! This multi-sensory interactive attraction will take the place of the Wipeout Wheel at this location.
The XD Dark Ride is one of Triotech's most popular releases that pairs cutting edge technology and special effects to create a superior guest experience.
XD Dark Ride
Recognized by IAAPA
In 2013, Triotech's XD Dark Ride won IAAPA's (International Association of Amusement Parks and Attractions) Brass Ring Award for Best New Product.
Designed with the whole family in mind, the XD Dark Ride will feature 8 seats, the world's fastest targeting system, a curved screen, and real-time 3D graphics and special effects.
Group play, individual scoring, and renewable content are all key tools to keep guests coming back for more! Currently, Triotech says there are more than 200 installations around the world, which makes Surge Entertainment Lafayette home to one of the rarest and most unique attractions on the market today.
perfect addition to the
Lafayette Location
Over 165,000 experienced the XD Dark Ride for themselves during Triotech's first full year of operation for this ride. The current reviews and testimonials about this attraction speak for themselves.
 The XD Dark Ride was the perfect addition to the Lafayette location because it brings something special to Surge Entertainment that no other entertainment center in the state offers their guests.
XD Dark Ride
Installation at Lafayette
Surge Entertainment Lafayette hopes to have the installation of the XD Dark Ride completed in early 2022. There will be multiple interactive games for guests to choose from, and pricing for this attraction will start out at $10 per person.
Talk about a steal! Whether you're interested in hosting a birthday party, trampoline park fun, or bowling at this location, the XD Dark Ride will now offer another exclusive attraction for guests to call one of their favorites at Surge Entertainment Lafayette!
Events
Get ready for an electrifying experience that will make your heart race with excitement – with Surge Go-Karting!
Events
Surge Entertainment is a family destination that has everything you need to keep the whole gang entertained for hours on end.